Khloe Kardashian is undoubtedly my second-favorite member of the elite KarJenner sibling group (shout out to Kim Kardashian for holding it down since 2007 as the ultimate HBIC). I'll freely admit that I, a fully grown-ass woman, nearly wept for the Good American CEO when I found out that her baby daddy Tristan Thompson stepped out on her while sis was ready to give birth at any second.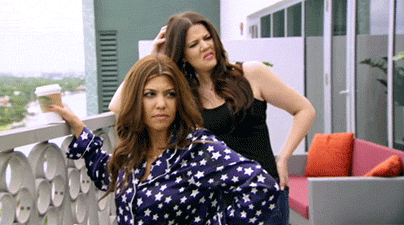 In that same vein, I'll also admit that my opinion of the youngest full-blooded Kardashian sister dipped slightly after discovering that she is 100 percent standing by her man post-cheating scandal. Citing the "enormous rebuilding" that she and Thompson are committed to achieving with the end goal of raising their daughter True together in sight, Kardashian is clearly not eager to become a single mother.
Not exactly Queen Persia, you have no knowledge of what goes on in our household or the enormous rebuilding this takes to even coexist. I'm proud of my strength. I appreciate your opinion and I hope you hold that same opinion to everyone else who has stayed in situations.

— Khloé (@khloekardashian) June 25, 2018
Thompson and Kardashian are clearly doing the most to turn the tide of public opinion and end the #IHopeTristan social media slams directed at the NBA player.
I hope everyone has a gr8 game. Except Tristan Thompson. #NBAfinals

— Lacey Mark (@laceymmark) June 7, 2018
However, after Kim Kardashian broadcast an awkward AF family get-together with Thompson in attendance on her Instagram Story recently, it quickly became clear that all was not well for the struggling couple.
Khloe Kardashian and Tristan Thompson still aren't happy together
According to a source close to the famous couple, Kardashian and Thompson are no closer to a full reconciliation than they were months ago when news of his infidelity hit the headlines.
The source said: "Khloe and Tristan are still not fully OK. They act like they are when they're in front of others, but it's all a show at this point. Tristan is feeling trapped in a bad relationship. He's no longer going with Khloe for sessions. He just didn't feel it was helping to discuss s— that happened months ago."
Excuse me? That "s—" that went down months ago was a grown man making the decision not once, but TWICE (that we know about) to become intimate with a woman who was not his exclusive girlfriend and baby mama. Sorry Koko, but I saw this coming months ago thanks to the age-old adage, "once a cheater, always a cheater."
Let this Tristan Thompson situation be a lesson for all you ladies !!! If someone has the AUDACITY to cheat on you just once they will do it again!!

— Viv (@viviantaro) April 11, 2018
If Thompson doesn't want to go to therapy, that means he's not ready to actually change his ways.