Thankfully, we're well beyond arguing whether Danielle Bregoli aka Bhad Bhabie deserves her title as a bona fide Billboard-charting rapper. Entering the world of hip-hop by transforming her meme-making appearance on "Dr. Phil" into viral celebrity status, Bregoli immediately proved her worth with her debut single "These Heaux."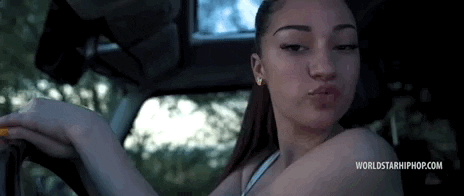 Now, Bregoli is back and just as creative as ever with the newly released visual for "Trust Me," her recent collaboration with veteran rapper Ty Dolla $ign.
TRUST ME music video OUT NOW ‼️‼️ come watch some crazy shit https://t.co/6YiFcFluil pic.twitter.com/BAQvzxSNRR

— #YUNGandBHAD (@BhadBhabie) July 26, 2018
Danielle Bregoli's new "Trust Me" music video
The visual for "Trust Me" is undeniably a stark departure from Bhad Bhabie's previous music videos. In the Nicholaus Goossen-produced joint, the 15-year-old shows no mercy in luring a catfishing child predator to meet his grizzly fate. Bregoli agrees to meet the creepy middle-aged man she's been chatting with online at a public park under the cover of night.
Then, with a cameo appearance by "Famous in Love" actress Bella Thorne, Bregoli manages to distract the sex offender long enough to stab him in the neck with a syringe full of some unnamed sedative. Unsurprisingly, Bregoli then ratchets the tension up a notch by taunting the predator in her own personal torture chamber before branding his forehead with a permanent "PEDO" label.
bro @BhadBhabie Trust Me music video legit gave me the chills she is killing it right now..

— Ender_ / On Twitch (@EnderTVG) July 26, 2018
According to TMZ, Bregoli chose to explore the touchy subject matter because "it was a way to connect with her young fans and inform them on the dangers of online sexual predators." Dedicated to both her craft and making an impact on her dedicated stan army of #Bhaddies, it's obvious that Bregoli does not take her celebrity status lightly.
Not only is the teen rapper shouldering her sudden fame and churning out one hit single after another despite having little formal training, she's mature enough to recognize the platform that she now stands on. Using her elevated status to actually do some good in the world, Bregoli is able to harness the intense fame that she so clearly deserves.
Watch the undeniably chilling visual for "Trust Me" below and discover just how serious Bregoli is about publicizing the importance of online safety: