When it comes to hip-hop superstar Cardi B's relationship with her #Bardigang fan army, very few topics are off-limits. Seemingly overnight, the "Bodak Yellow" record-breaker cultivated a loyal stan army of devotees drawn to her unflinching ability to show the world the low points of both her life and celebrity culture as a whole.
https://twitter.com/iam_h3rsh3y/status/1024900164530712577
Pouring her transparent ascent to the top of Hollywood's fame rankings into her art, Bardi even raps about her open-book lifestyle on "Best Life," a track from her recently released studio album "Invasion of Privacy."
"I said I never had a problem showin' y'all the real me/Hair when it's f—ed up, crib when it's filthy/Way-before-the-deal me, strip-to-pay-the-bills me/Fore I fixed my teeth, man, those comments used to kill me/But never did I change, never been ashamed/Never did I switch, story stayed the same," raps Bardi, referencing her refusal to let her sudden fame and fortune change her down-to-earth personality.
https://twitter.com/j_rdan_/status/1023358113724809217
Taking her close relationship with her fans one step further, Cardi B recently hopped onto Twitter to show her millions of followers that she's down to answer any and all NSFW postpartum questions.
Cardi B isn't afraid to keep it real
After captioning a photo of her husband Offset, "Hey cowboy, I want to take a ride on your horse," a fan slipped into the comments section to make a wisecrack about the rapper's post-birth hiatus from gettin' freaky in the sheets.
"3 weeks and 4 days Yes bitch I'm counting, wassup! 😂😩," replied the "Be Careful" hitmaker.
Hey cowboy ,I want to take a ride on your horse 🤪🤪🤪🤪🤪 pic.twitter.com/7q5oGVFnZP

— iamcardib (@iamcardib) July 31, 2018
Unsurprisingly, the comments section soon lit up with Bardi's stan army praising her NSFW reveal about her postpartum limitations. Even though she has the full force of a top industry label behind her, Bardi proves time and again that you don't have to rely on a marketing machine of PR statements and outings to connect with your fans.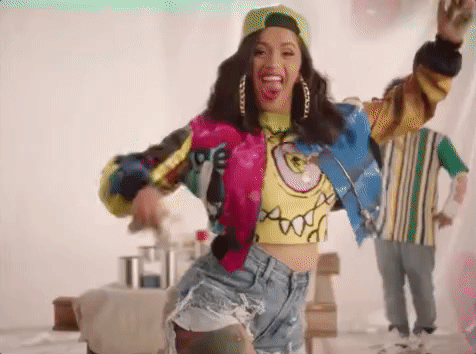 Thankfully, fame has truly only changed Cardi B for the better by giving her an elevated platform to show the world that you don't need to hide who you are to make it to the top.